We are a customer-focused experince provider living on a small farm located in Tornedalen, close to the Finnish border. Polaris refers to the Polaris star, also known as the North Star, Northern Star or Pole Star, and it is located in the Northern Hemisphere. Since we are located in the northern part of sweden we feel close to the Polaris, and therefore we choosed to call us Polaris outdoor experiences. 
Eric
Eric ex-US Army and an experienced Alaskan wilderness guide combines a proven skill set with a passion for nature and sharing with people the most beautiful parts of Swedish Lapland.
Susanne
Susanne is the resident wellness expert and a certified instructor in Hatha and Yin yoga.
The dogs
There are 11 of us, come and meet us for an experience of a lifetime!
Jumper
Our first husky! Super cool, adaptable and up for any challenge from hanging out on the sofa to leading a dog team in a blizzard. Always keeps his cool.
Juna
She is a running machine, shy at first but really gentle and affectionate. Comes alive in the harness and loves to roll in the snow. Jumper's sister.
Guido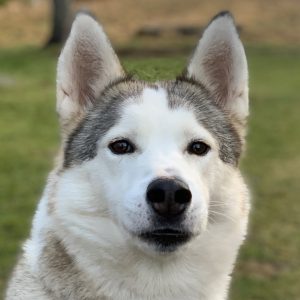 Our big man, Guido is shy of people but incredibly powerful and graceful. He is the oldest of the group at 10 and the father of the babies. Loves nothing more than cheese.
Mimi
Smallest of the adults, quick and with boundless energy Mimi is the mother to the puppies. She loves to run!
Leo
Susannes favorite 😉 "Lele" looks just like his dad and is strong as an ox and sweet as honey. Tireless in the harness.
Scout
Scoutie is good in the harness and a little quiet at first but loves attention. Sometimes overlooked because of his shyness.
Marlon
Goofy and playful, "Marley" is the most affectionate of the pups, he demands your attention!
Frank
Our blue eyed "Frankie" is cool in the harness, strong and dependable. Can be paired with everybody. Loves snacks and eating fast!
Peanut
"Peenie" is a work in progress in the harness, but more than willing to take you for a walk and hang around with you! Has a beautiful "singing" voice. She is the referee in the cage when the dogs play.
Pumpkin
"Pumpa" is our tough girl, definitely lead dog material. Smart and more than a little mischievous, she was our escape master from the cage.
Hazel
The smallest of the "puppies", "Hazie" is also a little shy at first, but like her Mamma has boundless energy for running. Also loves to sleep in our bed until late.